Women in seed systems in Africa: Grace Malindi
By: Rahma I Adam, Florence Sipalla, Pauline Muindi and Vongai Kandiwa
The maize seed sector in East and Southern Africa is male-dominated. Most seed companies operating in the region are owned and run by men. Often access to land and financial capital can be a constraint for women who are keen on investing in agriculture. However, there are women working in this sector, breaking social barriers, making a contribution to improving household nutrition and livelihoods by providing jobs and improved seed varieties.
The gender team within the International Maize and Wheat Improvement Center (CIMMYT) Socioeconomics Program interviewed 9 women involved in the seed business in this region as part of a collection of stories that will be published as a book this May. In honor of International Women's Day, held March 8, 2019, the CGIAR Research Program on Maize (MAIZE) and CIMMYT would like to share some of their stories to recognize these women—and many others like them—and highlight the important work that women do in seed systems in Africa.
This is Grace Malindi, and this is her story: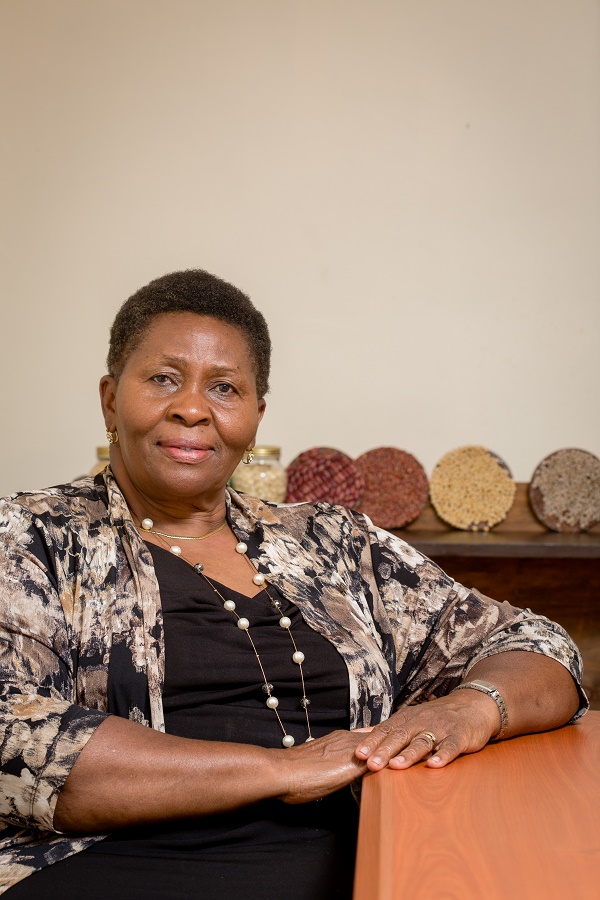 Dr. Grace Malindi, 67, started Mgom'mera in 2014 with her sister Florence Kahumbe who had experience in running agro-dealer shops. Florence was key in setting up the business particularly through engagement with agro-dealers, while Grace's background in extension was valuable in understanding their market. Grace has a Ph.D. in Human and Community Development with a double minor in Gender and International Development and Agriculture Extension and Advisory from the University of Illinois Urbana-Champaign in the U.S. Mngom'mera is a family-owned enterprise. Grace's three children are involved in the business, serving as directors. Her sons Ulemu and Mwai advise on strategic partnership, marketing and business development while her daughter Darlis shares her expertise in finance and accounting. She designed the company's accounting systems and trained staff on it.
Currently working in eight districts in Malawi, Mgom'mera is planning to expand in their business in the country and the region, taking advantage of existing trade blocs like the Common Market for East and Southern Africa (COMESA) and the Southern Africa Development Community (SADC). "We are targeting areas where trade is already happening through COMESA and SADC," says Grace. She is particularly keen on working in the Nyanja triangle, where agro-ecological zones are well-researched and seed regulations are harmonized.
Mgom'mera distinguishes itself from other seed companies because of its focus on maize varieties that have additional nutritive value. The company uses the tagline: "Creating seed demand from the table to the soil." It educates farmers not only on the how to plant the seed they sell, but also, how to prepare nutritious dishes with their harvest. The company stocks ZM623, a drought-tolerant open-pollinated variety, Chitedze 2, a quality protein maize (QPM) and will be selling MH39, a Pro-Vitamin A variety in the 2019 maize season. In addition, they are looking forward to beginning QPM hybrid production in the near future, having started the process of acquiring materials from CIMMYT. Mgom'mera also stocks legume seeds including beans, pigeon peas, cowpeas and groundnuts. The company works hard to maintain good seed quality and educate the community about the value of improved seed varieties.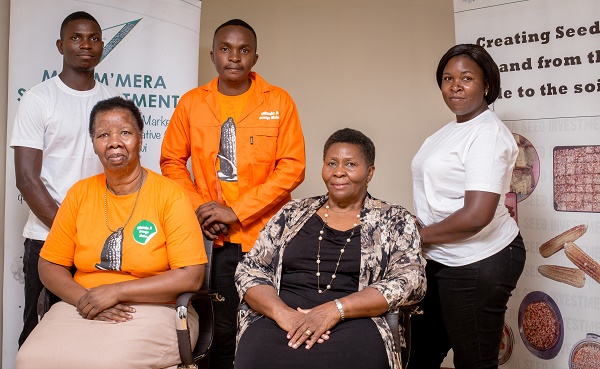 As a fairly new entrant in the seed business, Mgom'mera is still fighting to get its footing and increase its market share. "In this competitive industry, when selling maize, we have to compete with the varieties the farmers knew long ago," says Grace, noting that one must have a very good marketing strategy. She foresees an upward projection in their output, as they started with a production run of seven tons of maize and plan to expand to 70 tons. "The potential is promising," says Grace. The challenge is to work with informed value chains at every stage.
It takes a lot of extension and promotion efforts to educate farmers on the value of QPM (yellow) and Pro-Vitamin A (orange) maize as opposed to the white varieties they are accustomed to. "Yellow maize was associated with relief food," she explains, adding that consumers also need education on the benefits of orange maize. Thus, the first hurdle the company faces is changing consumer attitudes. The company demonstrates how to prepare delicious recipes using the crops they market to help influence their uptake. If farmers like what they have on their plate, they would then be willing to plant the improved variety.
Grace observes that women entrepreneurs are late entrants in seed business. "You need agility, flexibility and experience to run a seed business and with time you will improve," says Grace, advising women who may be interested in venturing into male-dominated business.
As a manager, Grace is keen to learn how she can build a successful family business, and work strategically with her staff and partners to achieve greater heights. "I want to learn how a family business can thrive with a succession plan that is systematic and sustainable," says Grace. The business woman would like to learn models that can be worked into the business structure to strengthen risk areas and close existing gaps. As she has a predominantly youthful workforce, she would like them to attain job satisfaction and be empowered to start related agribusinesses.
Tags: Africa, International Womens Day, IWD 2019, Maize, maize seed, Malawi, seed companies, seed systems, Sub-Saharan Africa
Trackback from your site.