SI 4. Stress-tolerant maize for the poorest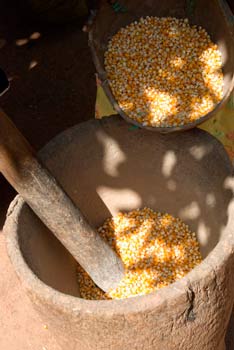 Stress Tolerant Maize for the Poorest underpins the impact pathway by developing new maize lines and varieties that confer higher yields and improved nutritional quality under ideal and stressed conditions.
For example, the Drought Tolerant Maize for Africa (DTMA) project was launched in 2006 to mitigate drought and other constraints to maize production in sub-Saharan Africa. The project operates in 13 countries (Benin, Ghana, Mali, Nigeria, Ethiopia, Kenya, Tanzania, Uganda, Angola, Malawi, Mozambique, Zambia and Zimbabwe) and provides farmers with better yields than leading commercial varieties under drought conditions, while giving outstanding harvests when rains are good.
Estimated impact
2020
2030
Benefit to the poor
The target area includes an estimated 560 million maize-dependent poor
Production increase
1.7 million tons of maize grain
4.5 million tons of maize grain
Impact on diet
Adding 5% to the diet of 560 million maize consumers
Adding 13% to the diet of 560 million maize consumers
Value addition
USD 420 million
USD 1,200 million
Benefit to the environment
More reliable maize yields provide incentives for farmers to reduce maize area, diversify crop production, and replenish soil nutrient deficits
Others
Reduced price fluctuation in drought years; reduced need