SI 3. Smallholder precision agriculture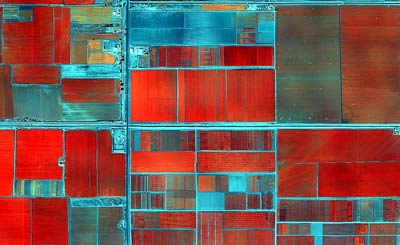 False-color image of the CIMMYT-Obregón station captured from the  Global Conservation Agriculture Program multispectral camera funded by MAIZE and WHEAT CRPs.
Precision Agriculture looks at data collection and interchange opportunities to provide farmers and communities with location specific advice, either through extension networks or rapidly evolving ICT tools.
In 2012 airborne remote sensing was assessed complementary to field measurements and satellite remote sensing in collaboration with researchers from the University of Barcelona in Spain, CAAS in China, the Crop Breeding Institute in Zimbabwe and Instituto Nacional de Innovación Agraria in Peru to develop a diagnostic tool based on the Crop Water Stress Index. Variables measured were canopy temperature and vegetative indices, in a first step to assess the impact of tillage on crop water use efficiency. These measurements could also be used for phenotyping, plant disease assessment and agronomic research and, when combined with a viable business model and ICT tools, potentially provide an efficient decision support tool to extension personnel and for farmers.
Estimated impact
2020
2030
Maize production
1.2 million t
9.6 million t
Annual savings in N fertilizer
150,000 t
600,000 t
Income
USD 240 million
USD 1,790 million
Benefit to the poor in the maize-based systems
The target area includes 620 million maize-dependent poor. At least 100 million of these people will benefit directly from the initiative.
Benefit to the environment
Reduced nitrate leaching and nitrous oxide emissions in areas with ineffective fertilizer use; reduced soil nutrient depletion in areas with under-application.