International Breeding for Success in Asia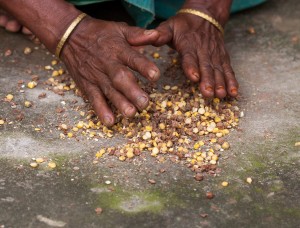 Frequent germplasm exchange between the Americas, Africa and Asia made maize the crop it is today. At one point in 2005, Brazilian elite breeding material was crossed with local Thai varieties, creating a breeding line that spread throughout Asia and even returned to predominate in southern USA.
For Walter Trevisan, Germplasm Enhancement of Maize (GEM) Steering Committee Chair, the transnational history of maize breeding offers several important lessons for maize breeders today.
One of the defining characteristics of the maize species is its incredible genetic diversity, a feature enhanced by its cross-compatibility with its ancestor, teosinte. The Maize Gene Bank at the International Maize and Wheat Improvement Center (CIMMYT) holds more than 250,000 accessions covering over 250 races of maize; 90 percent of this variability is still to be used by breeders. This diversity allows maize to be grown in many different environments or overcome new sources of disease, while keeping up with the needs of farmers and consumers.
Despite these advantages, commercialization has tended to reduce the genetic diversity of maize grown, with sometimes devastating results. In the United States, breeders were able to tease out varieties displaying a large degree of genetic variety from just one race. This, says Trevisan, "proves the plasticity of maize and the confidence that most maize breeders have that we can do miracles with the variability existent in maize." However, concerns regarding how long this could be maintained by breeding programs led to the establishment in 1994 of the Germplasm Enhancement of Maize (GEM) project, with the aim of using exotic varieties from gene banks around the world to introduce more variety into U.S. germplasm, with great success.
In Africa, tropical maize varieties were introduced and then bred further for drought resistance. To maintain these positive traits required by both producers and traders alike, these local varieties were bred with high-yielding U.S. varieties to improve their competitiveness. This, says Trevisan, demonstrates the importance of using "adapted local" sources to introduce exotic germplasm to meet the needs of farmers, grain traders and consumers.
In Asia, it was Sorghum Downy Mildew that spurred breeders' efforts, with CIMMYT scientists introducing Caribbean varieties bred for high resistance to this disease in the 1960s. Through the practice of recurrent selection, the Suwan DMR-1 variety was created and at one point accounted for 90 percent of maize sown in Thailand.
Trevisan believes that the breakneck pace of commercial maize breeding will require constant infusion with unexploited genotypes to maintain diversity, highlighting the importance of international centers such as CIMMYT, especially for smaller seed companies.
Presenting these thoughts on 30 October at the 12th Asian Maize Conference in Bangkok, Thailand, Trevisan will reveal his essential list of considerations for any successful breeding program. See the full conference program for more details, or follow events as they unfold on Twitter at #12AMC.
Tags: breeding, South Asia
Trackback from your site.