India has Potential to Become Export Hub for Maize in South East Asia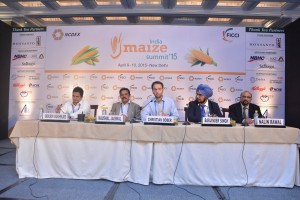 Delegates at the India Maize Summit 2015 held in New Delhi, 9-10 of April 2015, gathered to discuss the future of India as an export hub for maize throughout South East Asia. The Summit covered India's maize production outlook, state initiatives, private sector views, technology and other inputs.
Jointly organized by the Federation of Indian Chambers of Commerce and Industry (FICCI) and National Commodity and Derivatives Exchange (NCDEX), the summit was inaugurated by Harsimrat Kaur Badal, Union Minister for Food Processing Industries, Government of India. Badal spoke of maize's cultural significance in India and establishment of 17 mega food parks, one of which is dedicated to processing maize. She applauded the Borlaug Institute of South Asia (BISA) for promoting maize in Punjab, where maize productivity is a major concern for crop diversification efforts.
India has been a major maize supplier in recent years, capturing 45% of the Southeast Asian corn import market. The country's ability to supply these imports reflects a long-term increase in yields due to increased use of hybrid seed and improved agricultural practices. For India to remain both able to supply its own people's maize demand – ever-rising due to population growth and increased demand for animal feed – and remain a prominent exporter in the region, production will have to continue to increase.
Shilpa Divekar Nirula, Managing Director and Director at Monsanto India, is optimistic about India's ability to continue to be a leader in maize production. Nirula gave the key note address on unlocking the "A'Maize'ing" potential of maize in India, citing the case of a woman maize farmer who had achieved 11 tons per hectare (t/ha) of maize yield – compared to the average country yield of 2.5 t/ha – using a single cross hybrid. She also highlighted the regional and seasonal disparity of maize yield in India, and emphasized the need for an "integrated value chain" in the maize sector to exploit opportunities for a "Yellow Revolution," deriving the name from the yellow maize used mainly as feed which is now the driving the maize demand in India.
"In order to increase production from 25 million to 45 million by 2025 maize breeding will have to shift towards developing improved maize cultivars for smaller areas due to the interactions between genetics and growing environments," stated O.P. Yadav, Director of the Indian Institute of Maize Research (IIMR), who moderated a session on initiatives the Indian state is taking to increase production to meet domestic and export demand.
Christian Böber, Agricultural and Market Economist at CIMMYT, who moderated a session on improving maize quality and production through technology and other inputs, also reflected on the challenge of meeting the expected growth in demand for maize in India, estimated by various speakers to be around 45 million tons by 2025-2030.
One of the key problems the Indian maize sector faces is inefficient supply chain infrastructure resulting in unpredictable supply for consumers, stated Samir Shah, Managing Director and Chief Executive Officer of NCDEX in his opening address. In an effort to improve infrastructure the Government of Karnataka modernized the Agricultural Produce Market Committee. As a result, 55 markets were developed with modern infrastructure and electronic auctioning systems, helping to reduce inefficiencies in the maize supply chain.
P.K.  Joshi, South Asia Director at the International Food Policy Research Institute (IFPRI), also highlighted climate change and low competitiveness of Indian maize in global trade as two further major barriers for the maize sector in India. He stressed the need to improve efficiency along the maize value chain and provide crop and weather insurance products specially designed to address challenges faced by maize farmers.
Despite these challenges, farmers, local and federal governments and various organizations are effectively implementing initiatives that are increasing maize production and quality across India. Suhas P. Wani, Director of the International Crops Research Institute for the Semi-Arid Tropics Development Centre (ICRISAT), introduced recent efforts of the state of Andhra Pradesh to transform the agricultural sector, in which maize has played an important role. Public and private stakeholders in collaboration with India's National Agricultural Research Center, ICRISAT and CIMMYT, will be implementing and expanding agricultural innovations for 10,000 ha in each district of Andhra Pradesh.
Punjab has also been undertaking efforts to diversify the traditional rice-wheat cropping system, said Suresh Kumar, Additional Chief Secretary Agriculture, Government of Punjab. The Punjab state government is planning to reduce the current area under rice paddy over the next 10 years, and maize to cover about 500,000 hectares in next 3 years.
Sudhanshu Kumar, a progressive farmer from Bihar, emphasized that farmers are quite sensitive towards maize input and output prices, noting the successful cultivation of hybrid maize during the winter seasons in Bihar with little aid from the government or private sector. Four farmer representatives also addressed the summit and highlighted the importance of technology for bringing down cost of cultivation, mechanization and customised recommendations.
Additional room for growth and opportunity for maize farmers lie in alternative sectors – such as starch, food products, packaging and textiles – according to Sharad Khurana, India Country Manager at DuPont-Pioneer. He also suggested bringing down cultivation cost by increasing hybridization, subsidizing corn drying infrastructure and promoting alternate usage of corn as potential drivers for maize industry growth.
Angshuman Bhattacharya, Senior Director, Alvarez & Marsal, and other attendees concluded that the way forward for the Indian maize sector depends on producing good quality maize, having a clear plan to increase the maize area under the dry season, focusing on post-harvest management, and establishing linkages between indsutry and farms. Bhattacharya also  highlighted the role of transgenic crops for food security, improving India's competitiveness in global maize trade, reducing the cost of maize cultivation, leveraging public-private partnerships for maize farmers' skill development and promoting alternative uses of maize as vital towards keeping up with demand.
India is poised to become a regional leader in maize production. Whether or not the country siezes this moment of opportunity will depend on the ability of government representatives, farmers, and both public and private entities to effecitvely collaborate and address the challenges outlined at the Maize Summit.
Trackback from your site.