How we work
Organization of MAIZE
MAIZE uses a simple, cost-effective design for oversight and management that is based on the management principles defined in the Strategic Research Framework and the standard performance contract of the CGIAR Consortium. It uses current institutional capacities and networks, and largely focuses on the pragmatic implementation of a research agenda that involves a very large number of partners and is driven by stakeholder priorities and inter-institutional teams.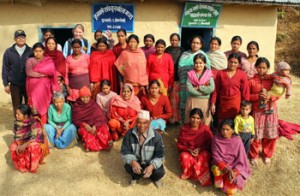 Except for the global initiatives SI 8 (Seeds of discovery) and SI 9 (New tools and methods for NARSs and SMEs), MAIZE will be implemented in a decentralized manner to ensure participatory decision making, effective engagement with regional and local partners, local capacity strengthening and focused regional impact. The primary axis of implementation is therefore in four regions: West & Central Africa; Eastern & Southern Africa; South & South-East Asia; Latin America & the Caribbean; implementation will follow the partnership approaches outlined:
Regional priority-setting among and within various Strategic Initiatives.
Collaborative planning, execution and assessment towards impact.
Needs-driven capacity building.
It is important to understand just how strong this decentralized participatory structure is: Currently over 90% of partner funds are managed through participatory approaches at the regional level and only 10% at the global level.
Roles and responsibilities
The Management Committee (MC) is the executive committee of MAIZE. Both CIMMYT and IITA Directors General sit on this executive working committee consisting also of the relevant institutional research directors and program leaders from Primary Research Partners (CIMMYT and IITA being the founding Primary Research Partners, with the Kenya Agricultural Research Institute (KARI), Mexico's Ministry of Agriculture, Livestock, Rural Development, Fisheries and Food (SAGARPA) and Syngenta Foundation For Sustainable Agriculture (SFSA) as external members ), all of whom oversee implementation of the MAIZE research agenda within their institutions.
The MAIZE Stakeholder Advisory Committee (StAC) comprises individuals who can bring together state-of-the-art scientific expertise and high-level insights from diverse partners (NARSs, the private sector, ARIs, farmer organizations). The committee's role is to broaden the perspectives and views about MAIZE beyond the MC and the Lead Center, without line responsibility, to assess the overall performance of MAIZE, and the relevance of the outputs and to periodically review the principles that guide MAIZE resource allocation. In MAIZE StAC, the chairperson and all members are non-CGIAR, excepted for both CIMMYT and IITA DGs.
The Stakeholder Partners are those that participate in the cycle of priority setting, implementation and review of research-for-development without contractual arrangements.
MAIZE is contracted by the Consortium Board to CIMMYT as the Lead Center. The Lead Center, through its Board of trustees and Director General, will be responsible for the successful management and implementation of MAIZE.
The Board of Trustees of CIMMYT has the fiduciary and legal responsibility and accountability for implementing MAIZE. It will monitor the successful management and implementation of MAIZE.