Food security podcast features Dr. B. M. Prasanna
by Carolyn Cowan
The challenges facing African agriculture, the need for enhanced investment in African agricultural research for development (R4D), and the formation of an International R4D Consortium to combat one of the most destructive crop pests in the world were among topics for conversation during episode 3 of Chakula-The Food Security Podcast, which aired from Kenya this week and featured Dr. B. M. Prasanna, Director of the CGIAR Research Program on Maize (MAIZE) & the Global Maize Program, CIMMYT.
"Maize is currently grown on 35 million hectares of land in Africa and is easily the most important staple food crop, feeding more than 200-300 million people and providing food and income security to millions of smallholder farmers," highlights Dr. B. M. Prasanna.  
However, he is quick to point out there are challenges with low maize yields in Africa. The world average yield is 5 tons per hectare, but Africa averages only 1.7 tons per hectare. This can be attributed to several factors, for example, the tropical location of many maize growing regions in Africa heightens crop susceptibility to pests and diseases that thrive in warm, humid environments and abiotic stresses such as droughts can be frequent and severe. There is also widespread lack of access to high-yielding stress resilient improved seed.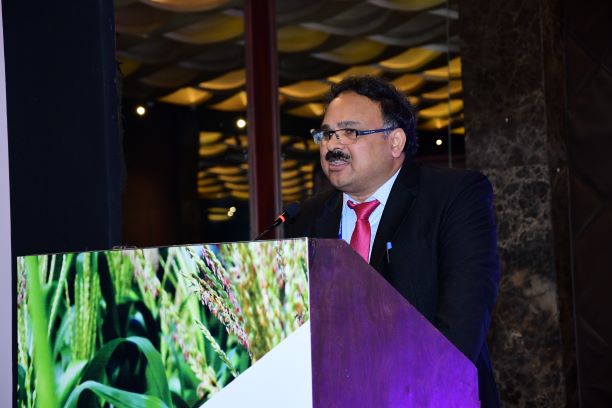 There are solutions, and this is where CIMMYT, together with the CGIAR Research Programs on Maize (MAIZE) and Wheat (WHEAT) can help. CIMMYT has been active in Africa since 1980 and works on developing and deploying climate resilient, high-yielding maize and wheat varieties with natural pest and disease resistance.
Dr. B. M. Prasanna emphasized that the strength of CIMMYT's impact does not stop with improved seed – there exists an entire chain of delivery. Work on seed systems ensures improved seed reaches the smallholder farming community, and better agronomic practices such as sustainable intensification ensures the genetic potential of seed is fully realized. Finally, CIMMYT's socioeconomic program works to develop and promote institutional innovations and enabling policies that can support farmers in the uptake and planting of improved seed.
The fundamental need for strengthening local and regional institutional capacity in Africa was highlighted, alongside the importance of training and investment in research to ensure development is underpinned by science-based and evidence-based R4D. 
The conversation concluded by highlighting the Fall Armyworm (FAW) R4D International Consortium, brought together by CIMMYT and the International Institute of Tropical Agriculture (IITA), comprising over 35 organizations to date. The members of the FAW R4D International Consortium are focused on developing technical solutions and a shared vision of how farmers should fight against this pest and are due to hold their first face-to-face meeting on October 29-31, 2018 in Addis Ababa, Ethiopia. Although FAW cannot be fully eradicated, sustainable management through integrated, multi-approach methods can be enhanced by further research into surveillance and monitoring, biological control measures, host-plant resistance and agronomic management practices to mitigate the damage.
Listen to the podcast episode here.
For more information about the FAW R4D International Consortium, click here.
Tags: Africa, food security, Maize
Trackback from your site.