Fighting Aflatoxin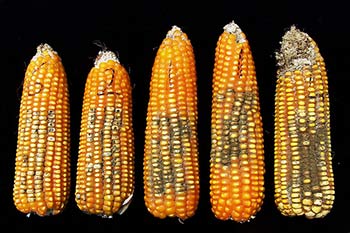 Aflatoxins are invisible, tasteless poisons produced by Aspergillus flavus, a mold commonly found infecting crops such as maize and groundnuts, both in the field and in storage. While acute exposure to aflatoxins can kill, prolonged exposure leads to impeded growth, liver disease, immune suppression and cancer, with women, children and the poor most vulnerable. Aflatoxins also impact international trade, with African economies losing US $450 million every year from barred exports.
First developed by the United States Department of Agriculture and adapted for use in Nigeria by the International Institute for Tropical Agriculture (IITA) and the African Agriculture Technology Foundation (AATF), Aflasafe™ is fast gaining ground across Africa as a non-toxic and affordable solution to one of the continent's most serious food safety issues. Aflasafe™ works by 'pushing out' harmful, toxin-producing strains of A. flavus from the field through the deliberate introduction of indigenous but non-toxic, harmless strains – a process known as 'competitive exclusion.'
The success of Aflasafe™ has led to an expansion in biocontrol research in Burkina Faso, Ghana, Kenya, Mali, Senegal, Tanzania and Zambia. IITA's experience in Nigeria suggests that the cost of Aflasafe™ – at US $1.5 per kg, with a recommended usage of 10 kg per hectare – is affordable for most farmers in the country.
More on: IITA to release mycotoxin resistant maize variety in Nigeria