Farmers' Critical Role in Fight to Prevent Spread of MLN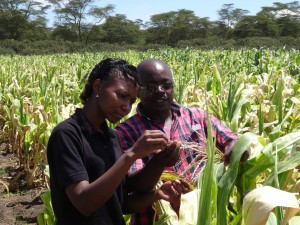 In the fight to prevent and control the spread of maize lethal necrosis (MLN) across Eastern Africa, the support and cooperation of everyone involved in maize production is crucial—especially farmers. This was the main focus of CIMMYT's 4th stakeholders meeting, held 15 October in Kenya, which brought together 56 local farmers as well as community leaders, administrators, government extension officers, KALRO and CIMMYT staff. The meeting was held to share new information on MLN and agree on the best methods to control the incidence and spread of the disease.
Engaging farmers in the fight against MLN is considered to be one of the main reasons that the Kiboko facility in Kenya has remained MLN-free, and transmission from local farms has significantly decreased. Encouraging farmers to employ practices such as a "maize-free period" to prevent the spread of the disease is one such method that has positive effects. It was determined during the meeting that this year's maize-free period would be held throughout March 2016, meaning that all farmers have committed to plant their maize by 20 November 2015 and harvest by February 2016. The farms will be visited in mid-December to assess adherence to the agreed planting dates and to monitor any disease incidence.
The seed industry also plays a key in preventing the spread of MLN. "CIMMYT's germplasm reaches many farmers in sub-Saharan Africa; hence keeping the seed clean is a key priority," noted Mosisa Regasa, Seed Systems Specialist at CIMMYT. So far, the efforts of local farmers in collaboration with CIMMYT and KALRO have greatly contributed to the prevention of MLN transmission in the region.
To read the original article, please click here:
Trackback from your site.