Fall armyworm reported in India: battle against the pest extends now to Asia
By: Carolyn Cowan and Jennifer Johnson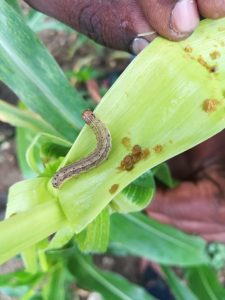 The fall armyworm (FAW), Spodoptera frugiperda, a devastating insect-pest, has been identified for the first time on the Indian subcontinent. Native to the Americas, the pest is known to eat over 80 plant species, with a particular preference for maize, a main staple crop around the world. The fall armyworm was first officially reported in Nigeria in West Africa in 2016, and rapidly spread across 44 countries in sub-Saharan Africa.  Sightings of damage to maize crops in India due to fall armyworm mark the first report of the pest in Asia.
Scientists from the College of Agriculture, University of Agricultural and Horticultural Sciences (UAHS) confirmed the arrival of the pest in maize fields within campus grounds in Shivamogga, in the state of Karnataka, southern India. Both morphological and molecular techniques confirmed the identity as FAW.
A pest alert published on July 30 by the Indian Council of Agricultural Research (ICAR)—National Bureau of Agricultural Insect Resources (NBAIR) further confirmed a greater than 70% prevalence of fall armyworm in a maize field in Chikkaballapur, Karnataka.  Unofficial reports of incidence of FAW are rapidly emerging from several states in India, including Telangana, Andhra Pradesh and Maharashtra.
The pest has the potential to spread quickly not only within India, but also to other neighboring countries in Asia, owing to suitable climatic conditions.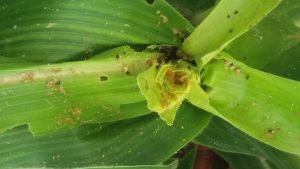 Since the arrival of FAW in Africa in 2016, the CGIAR Research Program on Maize (MAIZE) has intensively worked with partners on a variety of fronts to tackle the challenge. A Stakeholders Consultation Meeting was held in Nairobi, in April 2017 on the strategy for effective management of FAW in Africa, attended by 160 experts from 29 countries. The meeting, co-organized by the International Maize and Wheat Improvement Center (CIMMYT), the Alliance for a Green Revolution in Africa (AGRA) and the Food and Agriculture Organization of the United Nations (FAO), in partnership with the government of Kenya, developed an Action Plan document on the strategy to fight the fall armyworm.
In early 2018 MAIZE, in partnership with the United States Agency for International Development (USAID) and other collaborators, released a comprehensive manual on fall armyworm pest management in Africa. The manual, "Fall Armyworm in Africa: A Guide for Integrated Pest Management," provides tips on FAW identification as well as technologies and practices for effective and sustainable management.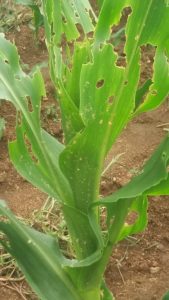 "The strategies outlined in this manual can be of great importance to farmers in India in dealing with this insect pest. FAW is indeed one of the most destructive crop pests, and there is no option than to adopt an integrated pest management strategy to effectively tackle this complex challenge," said B.M. Prasanna, director of MAIZE and Global Maize Program, CIMMYT. "MAIZE and partners are dedicated to finding solutions to this problem that will protect the food security and incomes of smallholder farmers accross Asia and Africa."
Other regions are at risk as well. Researchers have warned of the potential impacts if FAW spreads to Europe, where customs inspectors have already reported having discovered and destroyed the pest on quarantined crops imported from Africa on several occasions.
Global experts on maize and key stakeholders in Asia will gather together in Ludhiana, India, during October 8-10 for the 13th Asian Maize Conference to discuss pressing issues to the crop accross the continent, including the spread of fall armyworm. The conference, organized by the Indian Council of Agricultural Research (ICAR), Indian Institute of Maize Research (IIMR), CIMMYT, MAIZE, Punjab Agricultural University (PAU) and Borlaug Institute for South Asia (BISA), is expected to attract more than 250 participants from almost all the major maize-growing countries in Asia.