What role do CIMMYT and CGIAR have in building capacity in the region's ability to respond to Fall Armyworm?
Prasanna: CGIAR institutions, including CIMMYT and the International Institute of Tropical Agriculture (IITA), have significant strengths in building the region's ability to respond to trans-boundary pathogens (e.g., previous examples include Maize Lethal Necrosis [MLN]; wheat rust) and insect-pests, such as fall armyworm.
Specific examples of CGIAR/CIMMYT expertise that will be important in the fall armyworm response include:
Development and dissemination of crowd-source based tools and digital surveillance systems and analysis of the data collected across countries for a strong monitoring and early warning system.
Systematic and large-scale assessment of the present and potential socio-economic impact of fall armyworm in Africa, and the development of forecasting tools to understand potential losses
Review of the efficacy of different fall armyworm management options (learning from experiences of the United States, Brazil and Mexico), and adapting this information to the African context
Determining the efficacy of cultural control options against fall armyworm, including early versus late planting of crops like maize, handpicking, soil and habitat management, crop hygiene, etc.
Evaluating the impacts on-going integrated pest management (IPM) initiatives and the impacts of the fall armyworm invasion on the effectiveness of these interventions
Developing and implementing appropriate insect resistance monitoring and management strategy in fall armyworm affected countries
Analysis of the effects of conservation agriculture on fall armyworm management and the influence of fall armyworm incidence on diverse cropping systems
Testing and introgression of conventionally-derived resistance (from identified CIMMYT and U.S. Department of Agriculture-Agricultural Research Service [USDA-ARS] germplasm sources) into Africa-adapted maize germplasm, followed by fast-tracked varietal release, seed scale-up and delivery of improved maize hybrids/varieties through public-private partnerships (e.g., MLN is a great example of this).
Developing a "Fall Armyworm Information Portal", similar to the MLN Information Portal and Wheat Rust Tracker (led by CIMMYT), as a one-stop portal for relevant information.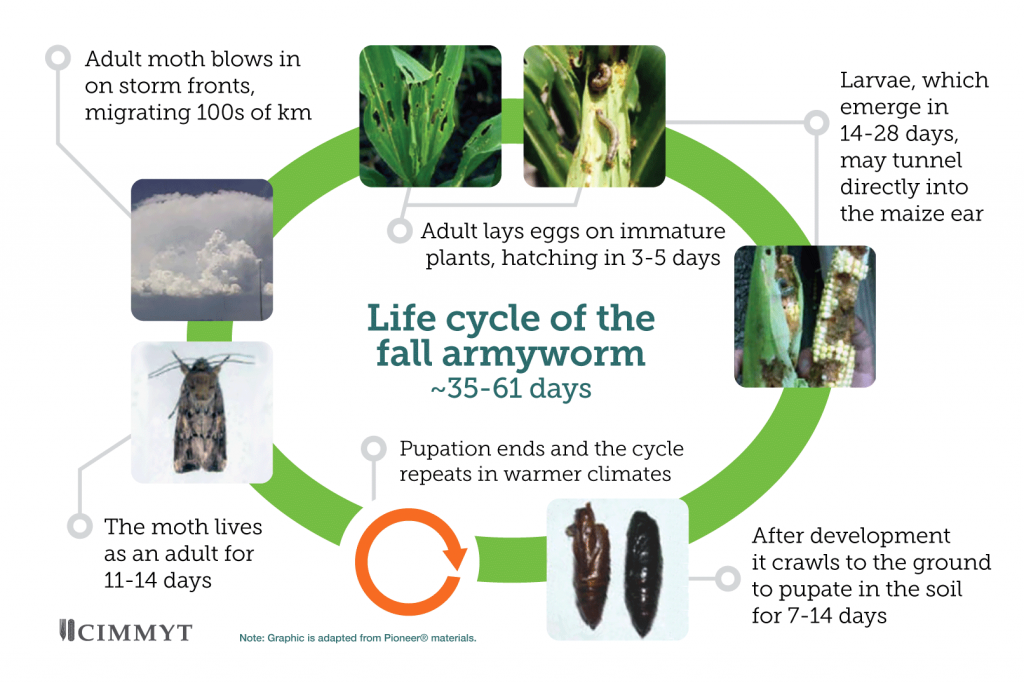 CIMMYT recently co-hosted an emergency meeting on the strategy for effective management of fall armyworm in Africa. What were the key outcomes and next steps for the response to this issue?
Prasanna: The emergency meeting was an opportunity to assess the present and potential damage due and to devise a holistic strategy to control the  fall armyworm menace in Africa.
CIMMYT, Alliance for a Green Revolution in Africa (AGRA) and the U.N. Food and Agriculture Organization (FAO) jointly hosted a Stakeholders Consultation Meeting in Nairobi, Kenya (April 27-28, 2017). About 150 experts and stakeholders from 24 countries in Africa, and five outside Africa (Italy, Spain, Switzerland, Britain and the United States) participated, with participants from government, NPPOs, national agricultural research systems (NARS) in Africa, as well as scientists from international agricultural research organizations, and representatives of service providers, non-governmental organizations, development partners, donor agencies and the media.
The present status of the pest in Africa was the core topic with participants also developing contingency plans to manage this aggressive invasive pest, as well as assessment of current control options being used. Experts from the United States and Britain provided expertise and insight on the response to fall armyworm in the United States and Brazil.
Action points and recommendations on four key areas were developed to outline an effective, coordinated response:
Contingency planning and awareness generation;
Fall armyworm monitoring and early warning;
Socio-economic impact assessments and modeling of potential losses;
Development and Dissemination of fall armyworm management options;
Coordination of Institutional Interventions for fall armyworm management in Africa.
FAO is expected to convene a regional workshop in early June to further engage and coordinate with relevant regional organizations who will be involved in the response.
CIMMYT and CGIAR have and will continue to cover this issue over the following months. For more information visit these recent publications: Multi pronged approach key for effectively defeating fall army worm in Africa; Scientists tackle deadly fall armyworm infestation devastating maize in Southern Africa and Global experts and stakeholders meet to develop fall armyworm emergency strategy for Africa.
Similarly, international coverage of the fall armyworm crisis has been extensive. A small collection of coverage is available here: