Climate
MAIZE has invested in science that equips maize farmers for more extreme and erratic weather, as well as threats from climate-driven pest and disease spread. This work includes breeding climate-resilient and pest- and disease-tolerant maize varieties, and spearheading global rapid-response efforts to threats like fall armyworm and maize lethal necrosis disease.
Stress Busters: Fighting Heat and Drought Stress
Every year, about 15-20% of global maize production is lost to worsening heat extremes and more frequent and prolonged droughts. In African and Asian maize settings, affected farm communities suffer hunger and intensified poverty. Building on CIMMYT research from the 1980s-90s resulting in a methodology for selecting resilient maize under drought stress, the Center began work with breeders in sub-Saharan Africa to develop Africa-adapted, stress tolerant maize. By 2015, more than a third of the maize area in 18 major maize-producing countries of Africa was sown to varieties with genetic contributions from CIMMYT or the International Institute of Tropical Agriculture (IITA), many featuring drought tolerance, bringing estimated yearly economic benefits of between US $0.66-1.05 billion. 
With its 27 partners in five countries, CIMMYT's Heat Tolerant Maize for Asia (HTMA, 2013-17) project resulted in over 50 CIMMYT maize hybrids being licensed for release to public and private partners between 2015-2020. By 2020, farmers had adopted 16 varieties on over 20,000 hectares. Studies showed that adopting farmers harvested nearly 1 ton more per hectare of additional grain than with conventional hybrids, earning nearly $180 per hectare in additional net income under adverse climatic conditions, as well as premiums for bigger cob size, better grain quality and added green fodder production.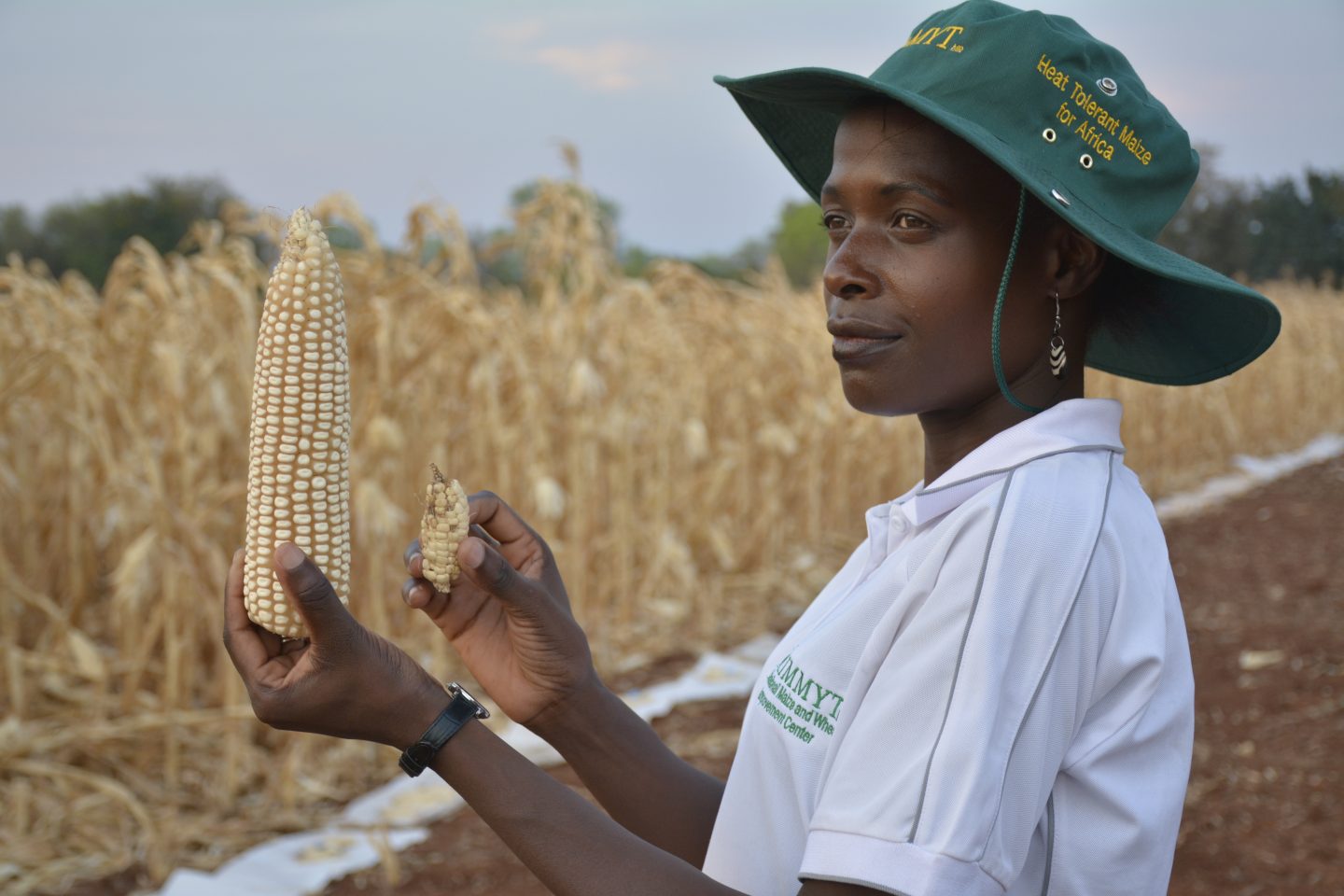 Bug Off: Fighting Transboundary Maize Pests and Diseases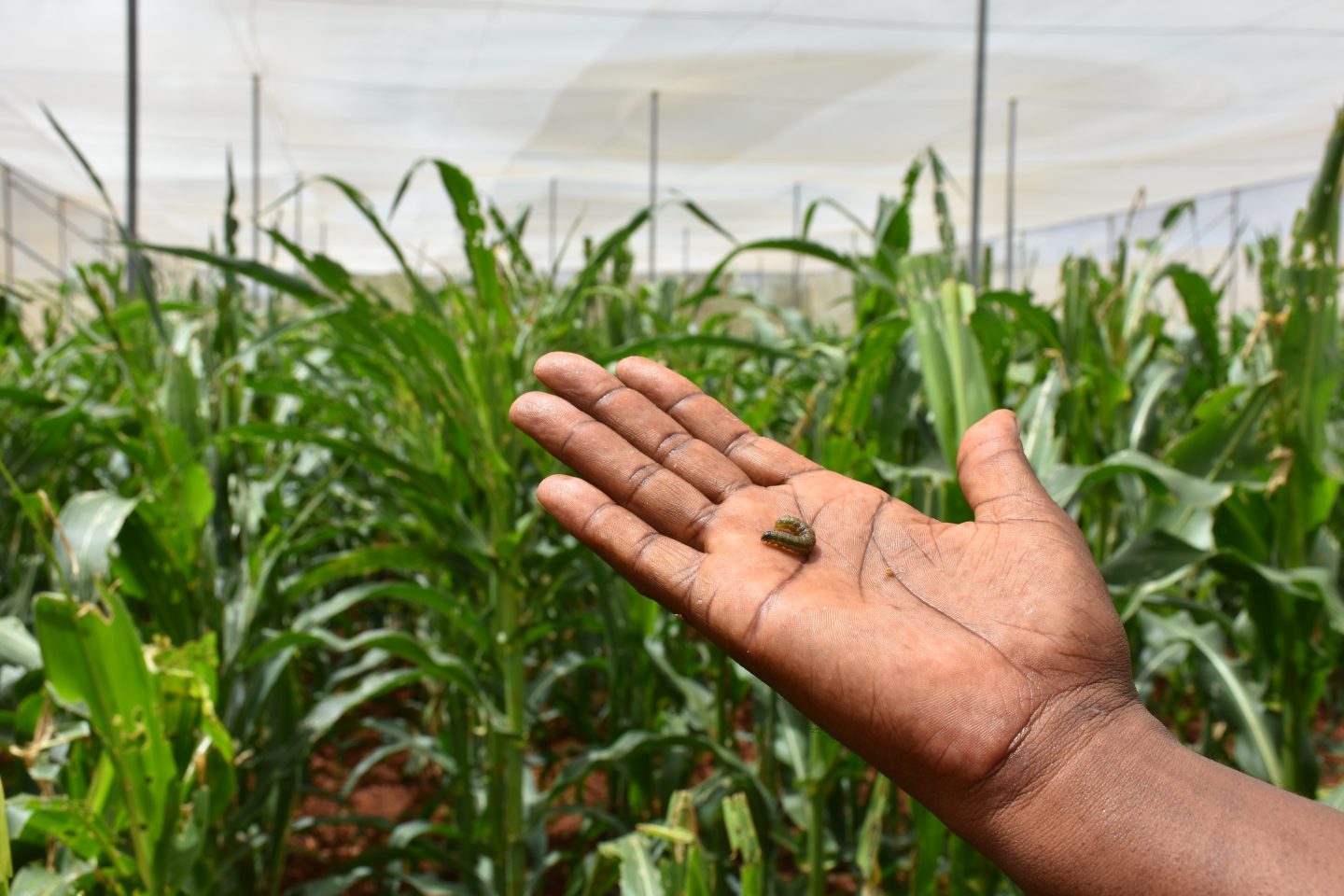 A coinciding crop infection by three viruses, maize lethal necrosis (MLN) disease is a prime example of emerging and spreading pests and diseases attributable to global trade, climate change, and sustained intensive cropping. First spotted in Kenya's Rift Valley in 2011, MLN swept like wildfire over eastern Africa's maize lands, so threatening farmers' food security and livelihoods that many simply decided to stop growing maize. With multiple national and international partners and against towering odds, CIMMYT helped curb Africa's MLN outbreak by quickly breeding and deploying resistant maize hybrids and working with seed companies to market virus-free maize seed, as well as improving diagnostic protocols, supporting disease monitoring and surveillance, and raising awareness among farmers, scientists, and policymakers about best practices to manage MLN. 
The multi-partner effort to address MLN proved a valuable model for the subsequent battle against the fall armyworm, a deadly maize pest from the Americas that since 2016 has marched across Africa and spread throughout Asia.
Fall armyworm cannot be eradicated — once it has arrived in an agro-ecosystem, farmers must learn how to cope with it. Farmers in the Americas have lived with this pest for the last two hundred years, but their tools and management techniques cannot be simply applied in Africa or Asia. Solutions need to be tailored to specific countries and local contexts, to account for the vast differences in local ecologies, practices, policies and other conditions.
MAIZE and its partners have spearheaded research on locally-adapted sustainable management techniques, and, in 2020, CIMMYT announced the release of three fall armyworm tolerant elite maize hybrids for eastern and southern Africa.