CIMMYT recognized for support in restoring Guatemalan seed systems after hurricane
by Carolyn Cowan
The International Maize and Wheat Improvement Center (CIMMYT) maize germplasm bank recently received an award in recognition of its contributions towards the Buena Milpa initiative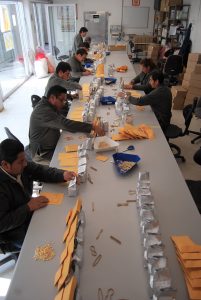 in Guatemala, which aims to enhance the sustainability of maize systems in the country. Denise Costich, head of the maize germplasm bank, received the award on behalf of CIMMYT during the event 'Maize of Guatemala: Repatriation, Conservation and Sustainable use of Agro-biodiversity,' held on September 7 2018, in Guatemala City.
The seed varieties stored in the CIMMYT germplasm bank were of vital importance in efforts to restore food security in the aftermath of Hurricane Stan, which swept through Guatemala in 2005, leading to 1500 deaths. Many farmers lost entire crops and some indigenous communities were unable to harvest seed from their traditional maize varieties, known as landraces. Generations of selection by farmers under local conditions had endowed these varieties with resistance to drought, heat, local pests and diseases. Such losses were further exacerbated by the discovery that the entire maize seed collection in Guatemala's national seed bank had been damaged by humidity; the seeds were vulnerable to insects and fungus and could not be replanted.
In 2016, drawing upon the backup seed stored in its maize germplasm bank in Mexico, CIMMYT sent Guatemalan collaborators seed of 785 native Guatemalan maize varieties, including some of the varieties that had been lost. Collaborators in Guatemala subsequently planted and multiplied the seed from the historic CIMMYT samples, ensuring the varieties grow well under local conditions. On completion of this process, the best materials will be returned to local and national seedbanks in Guatemala, where they will be available for farmers and researchers to grow, study and use in breeding programs.
Jointly hosted by the government of Guatemala through the Ministry of Agriculture, Livestock and Food and the Ministry of Culture and Sport, the recent ceremony signified the official delivery of the repatriated seed into the national system. Attendees celebrated the importance of maize in Guatemala and witnessed the presentation of repatriated maize collections to local and national Guatemalan seedbank authorities, including the Institute of Agricultural Science and Technology (ICTA).
"Supporting the seed conservation networks, on both the national and community levels in countries like Guatemala, is a key part of the mission of the CIMMYT Germplasm Bank," said Costich. "Our collaboration with the Buena Milpa project has enabled the transfer of both seed and seed conservation technologies to improve the food security in communities with maize-centered diets."
The Buena Milpa initiative in Guatemala is improving storage practices in community seed reserves: — tiny, low-tech seed banks meant to serve as backups for villages in cases of catastrophic seed loss. So far, Buena Milpa has enabled 1,800 farmers to access community seed reserves. In addition, 13,000 farmers have applied improved practices and technologies.
The CIMMYT maize germplasm bank, headquartered in Mexico, serves as a backup for farmers and researchers in times of catastrophic seed loss by safeguarding maize genetic diversity, a crucial building block in global food security.
Buena Milpa Project, CIMMYT, food security, genebank, germplasm, germplasm bank, Guatemala, Maize