CGIAR Partnership Survey
In the second half of 2012, the CGIAR Consortium commissioned GlobeScan* to conduct an independent assessment of the perceptions of CGIAR stakeholders, in an effort to have a clearer picture of where and how our partnership efforts needed to improve, involving:
1,071 (current, potential, past) partners
115 countries (Africa 33 percent; Asia 26 percent; current partners 68 percent)
During December 2012; 30 percent completion rate
The CGIAR's current performance in addressing its four development outcomes was viewed as generally favorable
Improve food security (72 percent positive), sustainably managing resources (56 percent)
Reduce rural poverty (48 percent), improve health/nutrition (39 percent)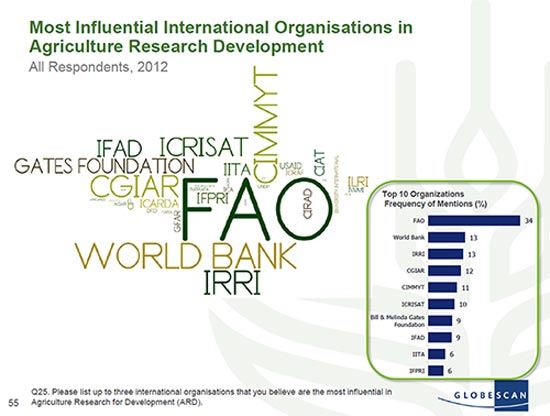 Findings provide the CGIAR with a good opportunity to improve perceptions across the dimensions related to building and sustaining relationships – Collaboration, Capacity Building, Accessibility and Transparency.
More info: https://www.cgiar.org/consortium-news/stronger-partnerships-for-development-impact/
*GlobeScan is a company specializing in research-informed counsel for multinational and regional companies, industry associations, multilateral organizations and NGOs.
Perceptions of MAIZE partnership
Overall satisfaction of MAIZE CRP partnership is high, with 84 percent of respondents saying they are satisfied with their partnership. MAIZE came in overall third position after GRiSP and WHEAT and came either 1st or 2nd place for 12 partnership criteria (out of the 26 criteria used in the survey).
Research outcomes and expertise are the two indicators in which MAIZE performs strongest, with global expertise and sector-specific knowledge being the top two performing dimensions. Collaboration is seen as the area in which this CRP needs to improve most, though even here 62 percent of respondents give it a positive score. Only on fair distribution of funding (48 percent) and making information available (49 percent) do less than half of respondents give this CRP a top three box rating.
When compared to CGIAR as a whole, collaboration and accessibility are rated significantly higher (16 and 15 points, respectively).