Cereal production in China: Keeping up with increasing demand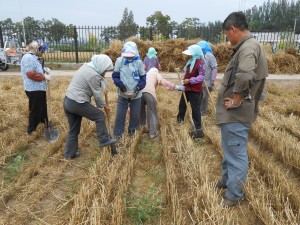 China is home to 1.3 billion people and faces increasing demand for cereal production, for both human and animal consumption as demand for meat products rises. This large and growing population makes food security and improved cereal yields a national priority.
An article published in the May 2014 edition of the Journal of Cereal Science outlines the advances and setbacks of  cereal production in China since the year 2000, as well as the challenges it will face in the future due to the effects of climate change. Cereal production has vastly increased in China in recent years, especially of maize, which experienced an increase of over 45 percent in production area from 2000 to 2011. This increase in the production of maize has led to a decrease in the amount of arable land used in the production of wheat and soybeans.
Yield improvement through conventional breeding is an important objective for China. Many yield gains in cereal production in China can be attributed to the usage of CIMMYT germplasm, especially of wheat, and it is estimated that such international germplasm exchange will be integral in the continued improvement of cereal yield potential in China.
In the future, cropping systems will have to be adapted in order to cope with climate change.  Mechanization, water saving technologies, and better crop management practices are among various recommendations offered up by the report to help China maintain its food security and to keep up with forecasted increases in population and cereal demand.
Link to study: Zhonghu He, Xianchun Xia, Shaobing Peng, and Thomas Adam Lumpkin, Meeting demands for increased cereal production in China
Tags: Asia, China, farming systems
Trackback from your site.