Promoting the careers of women scientists in CRPs MAIZE and WHEAT
Professional advancement is a challenge for all scientists. Women and men scientists, however, face different constraints and opportunities in advancing their careers. In order to address this, MAIZE CRP sponsored a study from the Royal Tropical Institute (KIT) into how the MAIZE and WHEAT CRPs approach the professional capacity enhancement of men and women scientists, and what can be learned from other organizations that have successfully addressed the advancement of women's careers in science.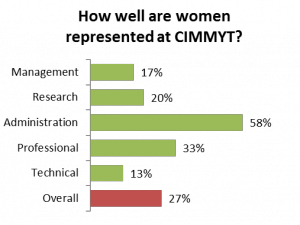 In addition to a literature review, the study involved interviews with managers and women scientists in several organizations working within the two CRPs.
The underrepresentation of women, especially at mid-career and senior levels, is a concern for many science and technology organizations, including the CGIAR, and an issue increasingly being raised by donors – often with a reference to the motto that 'change begins at home'.
As Anouka van Eerdewijk, who headed the research team along with Franz Wong, said: "Gender equality is about helping your organization realize its maximum potential."
The study identifies two different kinds of approach: one focuses on the professional development of individuals, while the other creates a more profound transformation at the broader level of the organization.  Organizations that have success in improving diversity integrate approaches at both the individual and organizational level to systematically address the explicit and implicit forms of bias that women may face.
Many capacity building and professional development activities take place within the CRPs. With notable exceptions such as Women in Triticum (WIT) and the women's leadership program offered by AWARD, few are explicitly designed to address women's needs, especially to help them manage the different professional challenges they might face in their career.
"Women face a lot of specific challenges, but sometimes they are reluctant to talk about it because they feel that it disqualifies them. The message we want to make is that it is super-important to focus on women's personal capacity enhancement at the individual level, but not because there is something wrong with women," said van Eerdewijk.
It is also important to link these specific measures to networking opportunities, as women working in science may experience professional networking differently to men. In addition to being an important professional and personal resource, these networks can build the basis for organizational change by allowing women to identify the invisible barriers they face and work on collective solutions.
"Systemic change does not come from individual women 'making it'," explained van Eerdewijk. "If we focus on individual heroes that overcome all challenges, that puts the problem partly on women and overlooks the fact that the organization still works in a biased way."
There are select organizational initiatives within the CRP main partners which support work-life balance, such as the CIMMYT HQ day-care facilities and CIMMYT's spouse employment policy, but this could be made more systematic. One important recommendation made in the study is to take into account the academic rather than the biological age of a scientist when making hiring or promotion decisions.
"The recommendations show that you never start from scratch. There are a lot of things already happening, but it is useful to bring them all together in an integrated approach," said van Eerdewijk.
Based on the study findings the researchers identify a series of opportunities to address the male-female imbalance at the organizational-level, as well as entry points to improve the capacity strengthening of individual scientists, especially women.
If you would like to receive this report when it is published, click here.
Trackback from your site.