Biofortified vitamin A maize improves nutrition and livelihoods in Zimbabwe
by Natasha Nagarajan
HarvestPlus program supports local farmers and boosts nutrition through improved maize
Zimbabwean farmer Steven Seremwe is one of about 250,000 farmers who have benefited from biofortified vitamin A maize through the Zimbabwe Livelihoods and Food Security Programme (LFSP).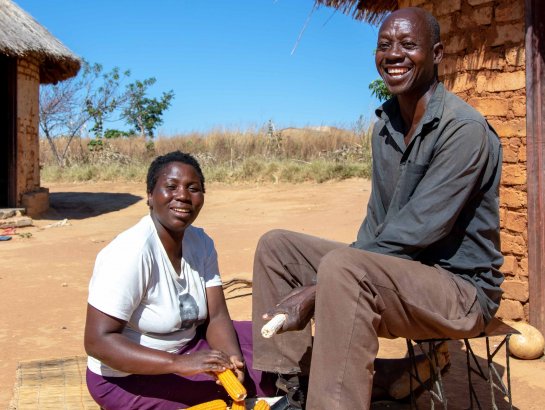 Seremwe had been struggling with making ends meet with his farm for years. Unable to produce enough for his family, he even took up odd jobs in the community to make up for it. Zvimba District, where he lives, also suffers from a high prevalence of malnutrition.
The LFSP project aims to help people like Seremwe through the promotion of agricultural productivity and biofortified crops.
Vitamin A-enriched maize was developed by the International Maize and Wheat Improvement Center and the CGIAR Research Program on Maize (MAIZE) with support from HarvestPlus. The variety is developed through a process called biofortification. Biofortification involves using conventional plant breeding practices to increase the amount of vitamins and minerals in a crop. It is primarily used to sustainably introduce a greater variety of important nutrients to people with limited access to a healthy diet. The bright orange color of vitamin A enriched maize comes from beta-carotene, a substance also found in carrots. Beta carotene turns into vitamin A after ingestion. The variety is not only good for overall health, but can also reduce night blindness in children, and consumers say the taste is delicious!
The first vitamin A maize trials began in 2015, and since then the crop has grown in popularity in Zimbabwe.
"Vitamin A orange maize and iron beans are an excellent add to our crops that we grow here. Now we have crops loved by many for sale. This contributes significantly to improving the living conditions of my family and education for my children," says Seremwe.
As part of the LFSP project, Seremwe was also given training on various techniques such as mulching and weeding, and was one of 3,300 farmers who were supported with a supply of vitamin A orange maize seeds and other agricultural inputs.
Steven reported that his farm was prospering as a result of the program. He became an ambassador of biofortification, sending bags of seeds for other farmers for them to try, and buying more orange maize seed and fertilizers for his own farm.
The program has distributed about 259 metric tons of vitamin A maize seed throughout Zimbabwe. It is expected that thousands of smallholder farmers will begin growing and consuming biofortified crops in 2020.
To read the full story on HarvestPlus, please click here.
Tags: Biofortification, provitamin A, smallholder farmers, Vitamin A maize, Zimbabwe
Trackback from your site.