A CRP Director for MAIZE – B.M. Prasanna
The CGIAR program on MAIZE, CIMMYT and IITA are pleased to announce that MAIZE is to be led by a dedicated CRP Director to spearhead the international maize research agenda of CGIAR.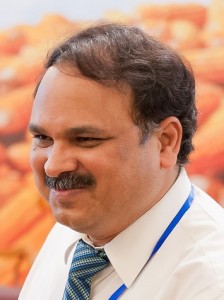 The CIMMYT Board, upon endorsement of the MAIZE Stakeholder Advisory Committee (StAC), has agreed to the CIMMYT Director General appointing Dr B.M. Prasanna as MAIZE CRP Director.
As leader of MAIZE, the Director chairs the MAIZE Management Committee and reports to the MAIZE-StAC, as well as to both the CIMMYT and IITA Boards of Trustees.
This new appointment will help CIMMYT and IITA to set up a single, global maize research and development program for both centers.
"The greatest strengths of MAIZE lie in its partnerships and scientific innovation, coupled with the track-record and commitment to develop and deploy a wide array of products that positively impact the livelihoods of several million smallholder farmers worldwide.  I look forward to enhanced collaboration with IITA and our other research and development partners in Africa, Asia and Latin America for greater impacts in the years to come," said Prasanna.
The CRP Director will be supported by a team of five, including the MAIZE Program Manager and a Senior Monitoring, Evaluation and Learning Specialist working for both MAIZE and WHEAT. Cross-cutting Communications, Knowledge Management (including Open Access), Gender and Intellectual Asset Management support is provided by the relevant CIMMYT/IITA departments and funded by the CRP management budget.