15 Ways to Improve Maize Production in Asia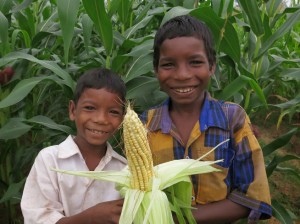 The 12th Asian Maize Conference was convened to join experts, stakeholders and national representatives in one room to share their perspectives on maize in Asia and create an inclusive roadmap to improve production and its impact on family incomes and nutrition.
The official conference recommendations have now been announced, revealing the priorities and challenges to develop maize production in the region and some key initiatives that we may see in the near future as a result of the conference.
There exist "tremendous" opportunities to sustainably double maize production by scaling out and targeting innovations in genetic improvement and agronomic management, the authors write. To do so, it is essential for agricultural research institutions to collaborate in a more holistic manner and work closer with extensionists and farmers themselves. International germplasm exchange must be facilitated to urgently increase genetic variety in the high-performance varieties grown.
Smallholder farmers, especially women, should be at the center of agricultural research and development efforts, exploring all options available to improve household production and nutrition security. Bio-fortified varieties such as quality protein maize must be deployed and targeted to combat the endemic problem of malnutrition in Asia, coupled with awareness-raising and marketing to further the growing importance of maize in national diets.
Finally, the development of commercial and community seed systems and changes in the policy environment are both crucial to any effort to increase production.
Click here to view the recommendations, released by the Asia-Pacific Association of Agricultural Research Institutions (APAARI) and the International Maize and Wheat Improvement Center (CIMMYT), in full.
Trackback from your site.